Slipping and falling onto the ground rarely ends well, as hitting a hard surface can be painful and lead to multiple injuries. Those who have ever tripped or slid due to an object or puddle, can probably vouch for the embarrassment and aches that come along with such an injury. Slip and falls can happen at any time, usually when we are not paying attention to our immediate floor surroundings. So, there are things we can do to help prevent us from enduring cuts, bruises and perhaps broken bones too due to falling. Sometimes, the slip and fall has nothing to do with our own negligence, and can occur when another party has failed to provide a safe environment.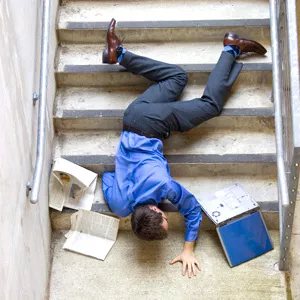 In the article to follow, we have answered several questions about slip and fall injuries, including how to help keep yourself more safe and what you can do if you are the victim of a slip and fall accident. 
What can I do to lessen my chances of slipping and falling?
When it comes to the outside environment, it can be challenging to control potential threats. But, when it comes to our own home there are things we can do to take a more proactive approach in preventing slip and falls. Here is a list of tasks you should consider, to help lessen your chances of tripping and falling onto the ground: 
Always remove debristhat you find on the floor, especially hallways, stairways and doorways.

 

Add light fixtures to areas of your home that tend to be dark and difficult to navigate.

 

If you have young children, place child safety gates at the top of the stairway, to decrease the chances of them falling down the stairs.

 

If you have elder family members, ensure you have strong rails that can withstand weight if someone grasped on to prevent a fall.

 

Use grip matting underneath all of your carpeting, and remove carpet that has started to curl, fray or become overly worn.

 
What if I slipped and fell while shopping at a store?
If you were to slip and fall during your browse at a store, you should notify a staff member immediately to report the accident. Your fall may have happened due to someone else failing to pick up a liquid mess, or strewn products on the isle. Take pictures of what caused you to fall before it is picked up, so you have evidence that proves what contributed to your collapse. 
Should I meet with an attorney about my accident?
Many people who endure a slip and fall accident may turn to an attorney for advice. This can be especially true for those who suffered bad injuries that were costly to treat. An attorney can evaluate your situation and help you decide which course of action to take in order to seek compensation. When meeting with a slip and fall attorney Washington, D.C., residents respect, bring along a file which includes all relevant paperwork to your slip and fall incident, so a thorough consultation can be performed. 
Thanks to our friends and contributors from Cohen & Cohen, P.C., for their insight into slip and fall accidents.