Semi-Truck Accident Lawyer Mobile AL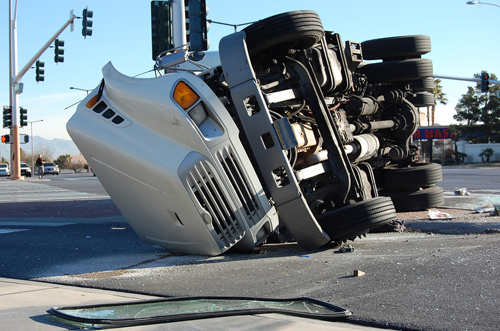 Truck accidents are a safety & legal issue for Mobile, Alabama residents and visitors. For this reason, it is good to know an 18 wheeler accident attorney.  Commercial truckers on Alabama highways are involved in truck accidents on a regular basis. When a truck crash happens, it often results in serious injuries and fatalities. Deaths are not the only issue caused by trucking accidents. Here are some additional issues that occur with commercial truck accidents:
14.4% of trucking accidents cause cargo to spill
6.5% cause open flames
Common Causes of Truck Accidents in Mobile
According to the Insurance Institute for Highway Safety most trucking accidents are caused by:
Speeding
Tailgating
Improper lane changes
Fatigued driving
Reckless driving
How are truck accidents different from other types of motor-vehicle accidents? When a crash with a commercial truck ends in property damage, injuries, or even death, the resulting insurance claim is typically more complicated, with more people, companies, insurance adjusters, and government agencies involved. The owner of the truck, the driver, the insurer, and all regulatory and licensing agencies play a part in the personal injury or wrongful death claim that will provide financial compensation for anyone injured or killed due to the negligent actions of a commercial truck driver or company.
Truck accidents usually cause more serious injuries than other types of crashes. Given the difference in size and weight of a commercial truck to a standard passenger vehicle, the damages caused by a crash are magnified. Even a low-speed collision can result in life-changing injuries and can tear families apart when the crash is fatal.
According to National Highway Traffic Safety Administration, 1,223 large trucks were involved in fatal truck accidents in Alabama in 2012, with more than 45,000 truck accidents nationwide.
If you are injured in a truck accident in Mobile, it is crucial to get immediate medical treatment. Major hospitals in the Mobile area include:
If you've been injured in a truck accident you should contact your insurance company as soon as possible to find out how medical treatment is covered.
If the injury is serious or a death occurs, the next step is to find an experienced Mobile truck accident attorney to start the financial recovery process by launching an insurance claim. Personal injury and wrongful death claims are complicated and difficult to manage, especially in the case of a commercial vehicle accident. Having a great Mobile personal injury lawyer on your side is a great relief to injured people who need to focus on healing while their attorney focuses on getting them compensation for their growing financial losses.
Act Quickly and Call a Mobile Truck Accident Lawyer
Truck accidents are often very serious due to the sheer weight and size of the vehicle. This leads to a chaotic period, with victims of the crash feeling overwhelmed.
It is vital to act quickly and to seek the services of a truck accident attorney in Mobile as soon as possible. One of the main reasons is that the data recorder's information on the truck and the accident has to be collected before it is destroyed or lost. Trucking companies will often send out their investigators immediately after the crash to gather their own information. They will interview witnesses, take photographs of the scene of the accident, take measurements of the road area, and more. This information is vital to paint a true picture of what actually happened. Because roads are used almost immediately after an accident has been cleared, it is vital that this is done immediately so that no evidence is lost. Time is critical, and those involved in the accident must act quickly to protect their rights.
The first thing you should do is call a truck accident lawyer who is experienced in dealing with 18-wheeler accidents. These types of accidents need specialized knowledge and skills that go above and beyond those of a general personal injury attorney.
You should also not speak to either the trucking company or the insurance company they work with. These conversations should be left to attorneys, unless they say that it is alright to have direct conversations.
You should never sign any documents or other types of paperwork before an experienced 18 wheeler accident attorney has looked them over. The vehicle that was involved in the accident should be securely stored away from the elements.
Neither the insurance company or any other agency should be allowed to access it until an 18 wheeler accident attorney agrees to this. One of the most critical pieces of evidence is the truck itself, so it should not be changed, modified, repaired, altered, damaged, or tampered with.
You should keep copies of all truck accident reports and accident incident numbers from the police, all medical bills, all information on witnesses to the crash, and more. This information should be given to the attorney as soon as possible.
By following these steps as soon as possible, truck accident victims will be able to help themselves and their families. It is vital that all of this is done as soon as possible. With the right legal counsel from an 18 wheeler accident attorney, victims of commercial truck or 18-wheeler accidents should be able to receive the compensation they are legally entitled to.
Call our experienced
truck accident lawyers
in Mobile, Alabama, at (251) 220-2790 to schedule a FREE consultation to discuss your case.