Premises Liability Attorney Mobile AL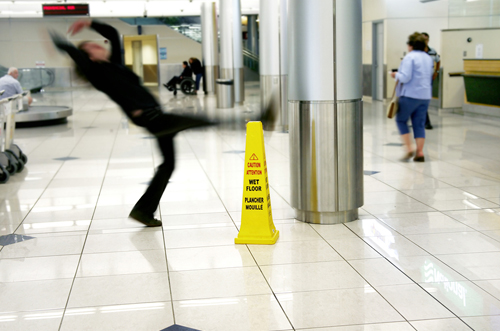 If you or someone in your family was injured on property owned by another person or business, you may have a premises liability claim.
If you were injured on property owned by someone else, talk to an experienced premises liability lawyer about your rights and options. You may be entitled to compensation.
Property owners are responsible for the safety of their property. When buildings, stores, parking lots and surrounding areas aren't properly maintained, a variety of hazards can appear, including icy footpaths, broken stairs, slippery puddles, inadequate security, poor lighting and many other potential dangers. Any of these can lead to an accidental injury.
When owners neglect to maintain a safe property, or quickly respond to hazardous situations, those who are injured as a result can hold owners responsible for their injuries. Alabama premises liability law mandates that property owners are responsible for keeping their property hazard-free, and warning others of dangers present. Property hazards often result in slip and fall or trip and fall accidents, leaving victims with severe injuries that require medical attention and long-term recovery.
If you've been injured due to property owner negligence, whether they did not warn of a hazardous situation or failed to repair a dangerous condition, Charles McCorquodale Law can explain your legal rights and options.
Slip and Fall Accidents
In real life, slipping, tripping and falling accidents aren't a laughing matter. In fact, they are often dangerous. Slip & fall accidents can cause serious injuries such as traumatic brain injuries, spinal cord damage, broken bones and even death. That is why Alabama law requires property owners to take reasonable care to ensure the safety of their premises. Unfortunately, some property owners or managers don't.
Who is Responsible for Premises Safety According to Alabama Law?
The degree of care a property owner is obligated to provide in Alabama depends on the relationship of the injured person to the property. For example, the property owner may be liable if a customer is injured in a store, but a homeowner will not have the same responsibility to a trespasser who is injured on the premises.
What are Common Premises Liability Accidents?
In many cases, the owner of a property may be liable for any type of damages or injuries that occur on his or her property. Common accidents involved in premises liability cases include:
Trips, slips and falls in stores, building lobbies, parking lots and around swimming pools
Assault on someone else's property
Negligent or lax security
Insufficient lighting
Exposure to toxic substances
Malfunctioning devices or equipment on property owned by someone else (i.e., elevators)
No matter what type of accident you have been involved in on someone person's property, it will be necessary to identify whether the property owner caused or contributed to the accident in the first place. We can help you explore your options for legal action.
Should I Take Legal Action in Alabama?
After you or a loved one has been involved in an accident, it is understandable that you may want to put the incident behind you. But in the event that you or someone you care about has suffered serious injuries, moving on may not be possible. Depending on the severity of the injuries, you may need costly medical treatments, miss time at work, and even lose physical or mental abilities.
When another person is responsible for such damages, it is crucial that you take legal action not only to hold the liable party accountable, but to also obtain rightful compensation. Do not forfeit your right to receive financial support. With a dedicated premises liability attorney on your side, you will be able to focus on your recovery as your lawyer works on your behalf and handles the complex and often frustrating legal process.
Types of Compensation for Damages in Premises Liability Claims
If you or a loved one were injured due to negligence or careless behavior of a property owner, you may be able to pursue compensation for any of the following damages, including:
Current medical bills
Future medical bills for resulting surgeries and treatment for complications of the original injury
Pain and suffering
Mental anguish and emotional duress
Lost wages from missed work
Loss of career or earning potential
Permanent injury or disability
Physical therapy and rehabilitation
Damages for the loss of joy of life
Wrongful death damages (including loss of future income and benefits, medical bills, pain and suffering of the deceased before they died, and loss of love, affection, companionship, etc.)
When to Contact an Aggressive Premises Liability Lawyer
Many property owners may try to write off slip and fall accidents as clumsiness on the part of the victim, but it is important to evaluate the evidence and determine the actual cause. If you have suffered an injury or worse due to a property owner's carelessness, contact an aggressive premises liability lawyer as soon as possible.