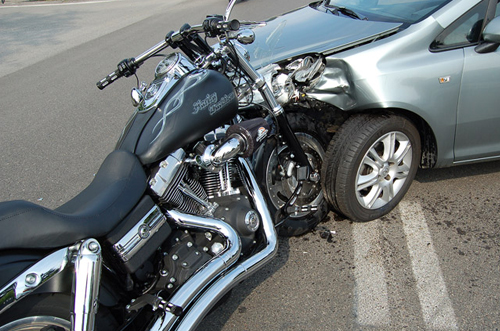 In motorcycle accidents, the driver of the passenger car is frequently at fault.
No matter who is at fault, motorcycle riders usually pay for a wreck through loss of life or limb. Victims or families of victims are well within their rights to fight for what they are owed. A motorcycle accident lawyer can help you understand your legal rights and options.
Motorcyclists are vulnerable on the road because they have little protection except for their clothes and any protective gear they are wearing. There is no seat belt or airbag to cushion a blow or to prevent you from getting thrown off your motorcycle. When motorcycle accidents happen, they often cause serious injuries or death for the rider and passenger.
If you have been injured in a motorcycle accident, you are faced with physical, emotional and financial challenges — medical and hospital costs, lost wages, rehabilitation, etc.
The Most Common Causes of Motorcycle Accidents
Here is a list of the most common causes of motorcycle accidents in the United States:
Head-on collisions: Statistics from The National Highway Traffic Safety Administration (NHTSA) show that head-on collisions account for more than half of all fatal motorcycle accidents in the U.S. These accidents almost always involve a passenger vehicle, and more often than not the driver of the passenger vehicle is at fault.
Left-turn accidents: These types of accidents account for approximately 42 percent of motorcycle accident fatalities. Most passenger vehicle drivers making a left turn at an intersection fail to see or yield the right-of-way to an oncoming motorcycle.
Dangerous roads: Motorcycles can lose control due to roadway dangers such as spills, debris, potholes or uneven pavement.
Driver negligence: When the driver of a passenger vehicle is impaired, distracted, speeding or otherwise negligent, motorcyclists are in danger. These types of negligence on the part of the other driver often cause serious motorcycle accidents.
Dangerous lane changes: Passenger vehicles changing lanes often fail to see motorcycles in their side view mirrors.
How To Protect Your Rights After a Motorcycle Accident In Mobile
If you were involved in a motorcycle accident, it is important that you take steps to protect your rights:
File a police report and obtain a copy for your records
Obtain contact information from all the parties involved in the collision, and from those who witnessed the accident
Get prompt medical attention and treatment for your injuries
Contact an experienced Mobile, AL motorcycle accident lawyer who will protect your rights and help you get compensation for your losses.
Injured victims of motorcycle accidents can seek compensation for damages including medical bills, time away from work, hospitalization and rehabilitation costs, pain and suffering and other related damages. Our attorneys can help evaluate your case at no cost.
Our goal is always to get you the maximum compensation for your motorcycle injuries.
If you suffered a motorcycle accident injury or lost a loved one because of the negligence of another party, talk to our
experienced injury lawyers
in Mobile, Alabama about your rights and options. Call us at (251) 220-2790 to schedule a FREE consultation to discuss your pain & injuries.